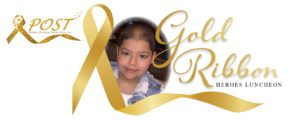 Mark your calendar!
Gold Ribbon Heroes Luncheon
Friday, March 31st 11:30 am – 1:30 pm
Café Sapori
This fun event will feature young cancer patients walking the gold carpet to show off their style. Luncheon attendees will enjoy a delicious lunch, champagne, fabulous auctions, and beautiful live music. They also have the opportunity to bid on artwork created by children battling cancer.
Our luncheon ambassador, Daniela, will tell her cancer story in her own words and young cancer survivors will share their hard-earned wisdom in short video clips called Healing Together.
Tickets available for purchase at $150. This is the "must-attend" event of the season!
Funds raised at this event will directly help children and their families fight cancer.
Please CLICK HERE FOR TICKETS or  call POST at (561)882-6336 for more information about tickets and sponsorships.