2022 STRONGER Than Cancer 5k FAQ
The 7th Annual POST 5K Run/Walk will be held Saturday, October 22, 2022 at 7:30 a.m.
Your participation will help us continue to help local children and their families courageously fight cancer by giving them compassionate emotional and financial support.
Proceeds
Proceeds from this event benefit POST. POST is a nonprofit 501 (c)(3) organization. Our incredible programs have ensured for 24 years that no local family has had to walk their child's cancer journey alone.
Fees for Runners and Walkers
Please see Registration Details for more information on fees.
THERE WILL BE NO RACE DAY REGISTRATION
RACE DAY FAQ
Where does the race start?
The race will start and finish at Roger Dean Chevrolet Stadium at 4751 Main Street, Jupiter, FL.
Where do I park?
This one is easy. Parking is available on Main Street and there is a parking garage with free parking on University Blvd across from FAU.
Where are the restrooms located?
Restrooms are available at Roger Dean Stadium.
What time does the race start?
The 5k race starts at 7:30 a.m. The Warrior Walk will begin immediately following all the 5k participants leaving the start area – usually by 7:45 a.m.
What time should I arrive at the race site?
You can arrive as early as 6:30. We suggest you arrive by 6:45 a.m. to allow for parking, warm up, fun, etc.
Will social distancing be practiced at the start line?
The start of the race will be a "relaxed start," as opposed to the usual mass start. The waves will line up behind each other, with people staying six feet apart and walk until you are able to move forward and enter the corral area. Don't worry, your time does not start until you cross the start mat. So you can be last to cross the finish line and still win because the winner is whoever has the fastest time.
Do I have to wear a mask?
Masks are not required. Because we serve severely immune-compromised children battling cancer and many of whom will be in attendance, we are careful to protect their safety and will always favor caution. If you choose to use a mask, please bring your own as they will not be provided.
How will social distancing be practiced on the course?
Please respect each other's space on the course. There is plenty of room on the course to pass safely. If you are walking or have a 10 min mile or longer, please wait and allow the faster runners take the front of the line. This will be safer and more fun for everyone.
Can a family member or my friend wait for me at the race site while I run?
Yes, spectators are allowed.
What can I expect at the finish line?
You will be handed your gold finisher beads and water by volunteers wearing masks. Runners are asked not to congregate in the finish line area but asked to move through quickly to allow for proper social distancing.
Will you offer any post-race snacks?
Yes. Volunteers will offer you a selection of prepackaged snacks and fruit.
How is the race timed with a rolling start?
Runners will be scored by net chip time – including the overall winners – which is the elapsed time between when a runner crosses the timing mats at the start and finish lines. Normally, the overall winners are scored by gun time which is the order they cross the finish line. This means that a runner who crosses the finish line after you may still have run a faster race than you.
Where will I find the race results?
Results will be streamed live to the internet where runners can check their times. There will be no printed race results onsite to avoid congestion of runners at result boards. Link to online results will be posted.
I won an award. Will there be an awards ceremony?
Congratulations! Good for you! We will have an awards ceremony for overall male and female first, second, and third at 8 a.m. at the stage. Age group winners will receive their award at the appropriate table.
What about medals and T-shirts?
Medals and T-shirts are guaranteed for the first 400 registered runners. That will be determined by the date that a participant registered, not when they finish. These will be given out at packet pick-up. Register now so you don't miss out!
IMPORTANT
Please do not attend packet pickup and the race unless you have been in good health and symptom free from any illness for 2 weeks and you have not been exposed to someone else who has been sick in the last 2 weeks. Furthermore, runners and volunteers who have travelled internationally in areas with active COVID within the previous 2 weeks will be advised not to attend the race.
PACKET PICK-UP INFORMATION
*If you are picking up for 5 or more people, please email alexis@postfl.org ahead of time so we can prepare you packets and have them grouped together for you.
*We will deliver to local Teams of 10 or more (Jupiter & Palm Beach Gardens) email alexis@postfl.org with Team Name or Name of Members to be grouped together & delivery address.
Packet Pick-Up Dates, Times & Location: To be announced.
RACE DAY 50/50 RAFFLE
50% of gross proceeds from ticket sales will be awarded to a winner (drawing will take place LIVE on Facebook following the 5K Awards). The remaining 50% of tickets sales will be donated to POST to be used to pay for financial needs of local families who have a child battling cancer – housing, food, gas medications and more!
Bonus! *Additional drawings for other prizes will be included after the raffle winner is announced.
10 chances for $20
30 chances for $40
Cash and text to give accepted. Text SENDINGHOPE to 44321.
We are looking forward to seeing you at Roger Dean Chevrolet Stadium on October 22, 2022!
Thank you!
Barbara Abernathy
POST CEO
2022 Area Map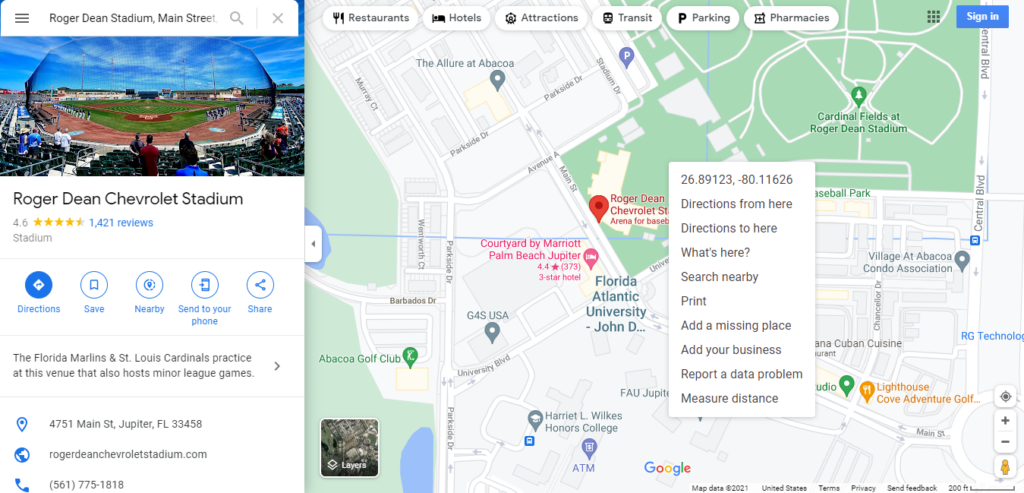 Course Map