Halloween is lurking just around the corner! While most people go straight to candy for a Halloween treat, here are some spooky and healthy snack alternatives to make with your family this season.
We want our kids to stay safe this Halloween, so please keep in mind food restrictions from your doctor. This includes peeling all fruits, and if you choose to use other fruits, they must be hand washed at home. 
Banana Ghosts and Mandarin Pumpkins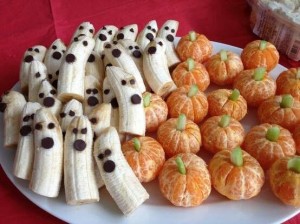 Cut a peeled banana in half and add some chocolate chips for eyes and a mouth to make a spooky banana ghost! To make some fruit-pumpkins, poke a piece of green apple through the top of a peeled mandarin.
Pumpkin-Shaped Snack Platter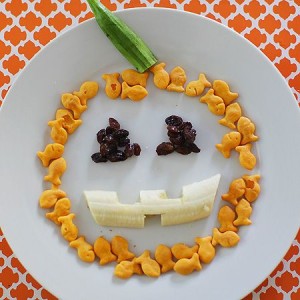 Try combining a few healthy snacks in the shape of a pumpkin for a fun platter full of variety. Some snacks could include goldfish or cheese for the border, raisins or olives for the eyes, okra or celery for the stem, and a banana for the smile!
Candy Corn Fruit Cup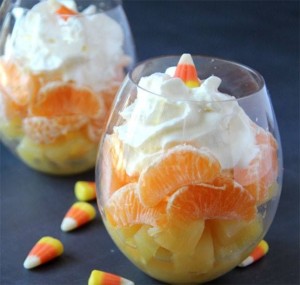 Combine some pineapple and mandarin slices in a cup or bowl and top with whipped cream, cottage cheese, or yogurt for a candy corn fruit cup!
Cookie Cutter Cheese Slices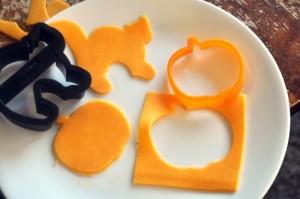 Use cookie cutters on cheese slices to get a Halloween-shaped snack!
Cheese Eyes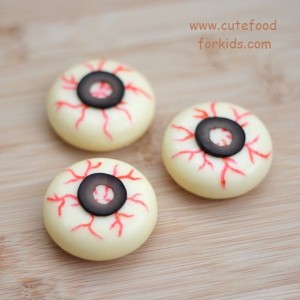 Stack some olive slices on tiny cheese wheels for some edible eyes! You can even use some red food dye to add details.
Witch Fingers
Take some carrot sticks or celery for witch fingers and add your favorite toppings for nails such as tiny pieces of sandwich meats, fruit, or spread on peanut butter!
Jack-O-Lantern Fruit Cups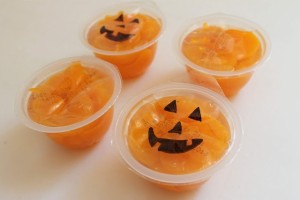 Grab some orange or peach fruit cups and use a marker to decorate the lid for some Jack-O-Lantern fruit cups!
Ghost Boiled eggs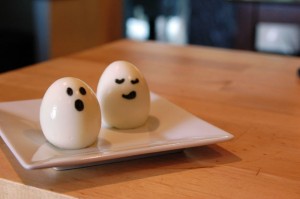 BOO-il some eggs, peel, and use food coloring to decorate faces to make ghost eggs!